The report also gives an overview of the latest market development in North-America and Asia and an overview and forecast of the global WPC market situation, which has grown up to 2.5 million tonnes of production in 2012. China has the strongest growth rates with a production volume of 900,000 tonnes in 2012 and is trying to catch up with the largest WPC production volume in the world, which takes place in North America and has grown to 1.1 million tonnes of WPC production in 2012. The share of WPC decking in the total decking market is increasing again, after a period of housing crises and WPC quality problems that have led to a shakeout of the top WPC producers.
In China, also decking has the largest market share compared to other WPC applications, mainly through strong exports, although the domestic market has steeply developed in recent times. China hosts also the largest window and door market of the world. Hence companies lately have started to produce commercial window frames with WPC, with approximately 40% of wood fibre that substitutes PVC in combination with aluminium. China produces a large variety of WPC for indoor applications. Another successful product is an extruded WPC door that is already produced by 30 companies.
The most dominant use of natural fibre composites by far can be found in interior parts of the automotive industry - other sectors such as consumer goods are still in a very early stage. In automotive, natural fibres composites have a clear focus on interior trims for doors for high-value doors and dashboard. Wood-Plastic Composites are mainly used in rear shelves and trims for trunks and spare wheels as well as in interior trims for doors.
Figure 2 shows the total volume of 80,000 tonnes different wood and natural fibres used in 150,000 tonnes of composites in passenger cars and lorries, produced in Europe in 2012 (90,000 tonnes Natural Fibre Composites and 60,000 tonnes WPC). Recycled Cotton Fibre Composites are mainly used for the driver cabins of lorries.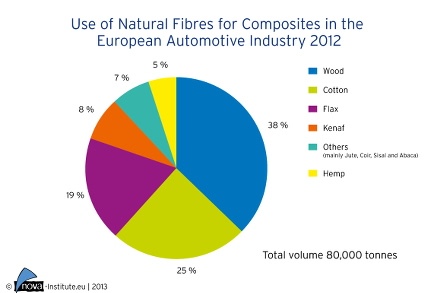 The highest market shares are made up for by wood (European origin), recycled cotton (from world market) and flax fibres (European origin). Compared to the last survey for the year 2005, the shares of kenaf (from Asia) and hemp fibres (European origin) show the biggest increase in percentage.