On the market for over twelve years with more than 750 units sold: alpha – the standardized single screw extruder for technical profiles and small pipes. Battenfeld-cincinnati, Bad Oeynhausen/Vienna, offers its best-selling machine model with several technical improvements from now on.
In contrast to their predecessor models, the revised alpha extruders are now equipped with a new, extremely compact drive system, which offers the benefit of small dimensions and substantially reduced oil requirements. Thanks to the smaller drive unit and a redesigned sub-structure, the extruder has also become even more space-saving.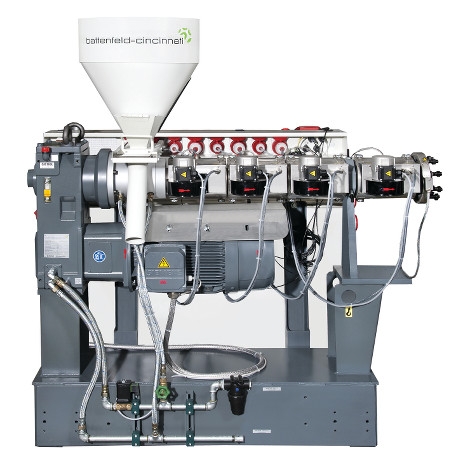 Rear view of alpha 45, which has become even more space-saving thanks to its compact drive
Other improvements in the alpha extruders include the high-quality frequency converters built in for even more accurate regulation of screw speed and torque, and the temperature controllers. The latter stand out by their high precision, are equipped with a fast self-tuning function and have an integrated on/off function as well. The new alpha extruders are particularly user-friendly thanks to a warning light in traffic-light colors. The green light signals that the extruder is operating trouble-free, orange stands for conditions requiring the machine operator's attention, red indicates a need for immediate intervention.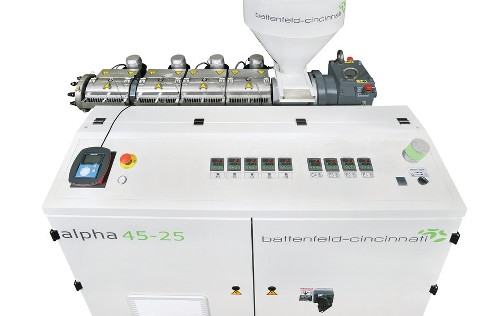 All extruders from the alpha series are easy to operate and equipped with remote control
The improvements cover all models of the standardized alpha single screw extruder range, which are available as cash-&-carry products worldwide at a uniform price and for delivery at short notice. All other features of these technologically advanced processing machines have remained unchanged, so that they can also continue to be used as multi-purpose extruders or co-extruders.
They are available in the sizes alpha 45, 60 and 75 with either smooth or grooved feed zones.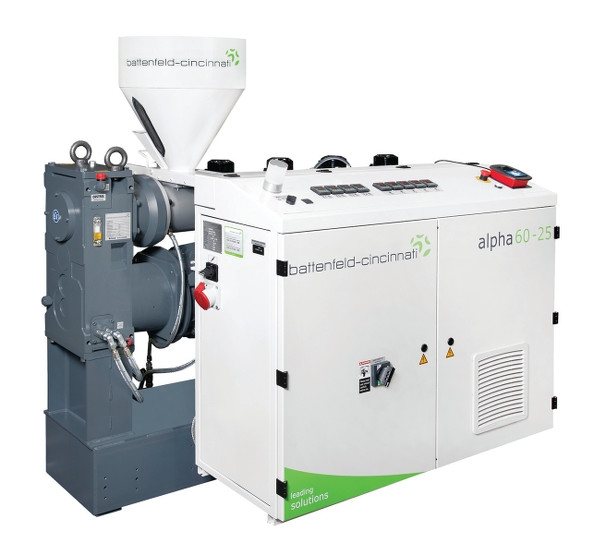 At the customer's request, all extruder models from the alpha series can also be built in left-sided configuration. For example, the alpha 60 shown in this picture