Great Britain's first Engel v-duo press has been housed at WMG's Automotive Composite Research Centre at the University of Warwick. The Centre's aim is to help the automotive sector tap into innovative technologies, using the industrial-scale machine to develop mass-production processes for the manufacture of fibre reinforced composite components.
Engel supplied the 1,700-tonne press with a mould and integrated HP-RTM equipment. With a mould mounting surface of 2.2 by 1.8 metres, the machine offers WMG the opportunity to produce a multitude of components and use different materials and manufacturing processes. WMG is a research and education group based at the University of Warwick and works collaboratively with global companies to develop innovative products, services and processes. Along with their UK base, they have education centres and partnerships in seven countries. Prof. Ken Kendall, Professorial Fellow at WMG's Automotive Composite Research Centre comments: "As a development partner with the automotive industry, flexibility is very important to us. The Engel v-duo enables us to research thermoset composites prepreg compression moulding (PCM), sheet moulding compound (SMC) compression moulding, HP‑RTM and stamp forming of thermoplastic composites. The precise control provided by this equipment is an essential feature for us when researching these processes".
A completely integrated solution
Engel's decades of experience in the automotive industry was another crucial factor in WMG's decision to invest in an Engel v-duo machine. It was also important to Prof. Kendall to purchase an integrated solution where everything came from a single source. When Engel is used as a system supplier, the customer only communicates with one Engel contact, which can speed up the project planning and startup of the plant significantly. A further advantage is that the HP-RTM unit, which Engel implemented in cooperation with its system partner Hennecke (in St. Augustin, Germany), has been integrated into the machine's control unit, meaning the entire manufacturing process can be managed via the machine's display.
Maximum performance with a low overall height
The Engel v-duo machine was designed specifically for fibre composite applications. Compared to conventional presses, the Engel v-duo is 50 per cent shorter in terms of height and about 60 per cent lighter. The large vertical machine, which is available with clamping forces from 4,000 to 36,000 kN, therefore makes it possible to create compact production cells at low investment costs.
The Engel v-duo is characterised by a very high degree of rigidity and excellent platen parallelism. Platen-parallelism control for injection compression moulding is included in the standard version of the machine. In addition, handling devices that move straight into the mould area can be integrated to save space. Using the sliding tables, insertion tasks and set-ups can be carried out flexibly and easily. The hydraulic accumulator has been done away with completely, and with the ecodrive servo-hydraulic system fitted on the standard version of the machine, the Engel v-duo is setting new standards in energy efficiency too.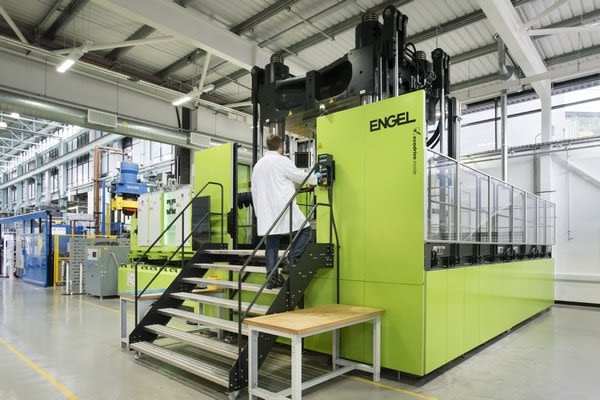 Engel at Composites Europe 2015 in Stuttgart
At Composites Europe 2015, which takes place from September 22nd to 24th in Stuttgart, Engel will be presenting the full potential of the Engel v-duo series and also guarantees visitors a look at many other current lightweight-design projects. At its Center for Lightweight Composite Technologies in St. Valentin, Austria, the injection moulding machine manufacturer puts a huge amount of effort into promoting the interdisciplinary development of fibre composite technologies with partner companies and universities. The aim is to speed up the launch of composite technologies in the automotive industry. The technology centre is currently focusing on the processing of semi-finished thermoplastic products (thermoplastic fabrics and tapes) and on reactive technologies that use thermoset and thermoplastic material systems, such as HP-RTM and in situ caprolactam polymerisation.