Equiplast, which takes place every three years in Barcelona, will run from November 14 through 18, 2011. Ferromatik Milacron will present the Elektron, the newest all-electric machine series. The Elektron is designed for a wide range of standard applications and offers outstanding value in an energy-efficient machine.
The Elektron 110, with a clamping force of 1,100 kN and equipped with a international size 120 injection unit, will demonstrate production of packaging parts on a single cavity mold by Spanish mold-maker Matrix. "The Elektron provides a flexible molding solution for both newcomers and experienced injection molders, for whom energy efficiency is just as important as price," said Joaquin Rabinad, General Manager for Ferromatik Milacron in Spain. "We see a lot of potential for this machine in the Spanish market."
The ELektron is available with a choice of options to meet a variety of manufacturing requirements. There are eight clamping force sizes ranging from 500 to 3,500 kN, and a selection of seven injection units – from international size 55 to 1,540. A total of 23 combinations is possible, each with a choice of three screw diameters.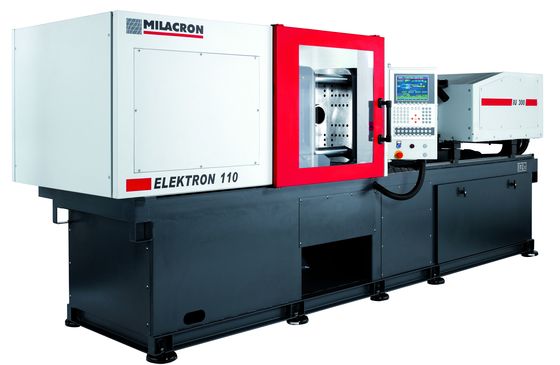 The Elektron offers molders these key advantages: economy: uses 60% less energy and 90% less water than hydraulic injection molding machines; dynamics: Parallel movements for fast cycle times; precision: exceptional part quality with excellent mold protection thanks to stroke accuracy of .01 millimeter; productivity: minimal rejects with maximum repeatability and machine availability; flexibility: suitable for all standard applications; clean: ideal for clean room operations since no oil is used; quiet: minimal noise - perfect for personnel-intensive operations and assembly areas.