For fresh domestic fish transport, Carrefour had been looking for a more environmental friendly way of packaging fresh fish. The established expanded polystyrene (EPS) tray packaging was under heavy dispute for environmental reasons and Carrefour wanted to ban this kind of packaging for the fish tray end-use by forehand.
Following a rigorous selection, Mondi's barrier liner concept was selected as one of the alternative materials. Mondi could offer an effective solution for the development of the Afcofish Tray, providing an absolute watertight and high-degree of moisture vapour barrier.
Mondi's barrier liner concept allows considerable weight reduction in liner- and fluting material, cost effective use of recycled materials and is fully recyclable. For the corrugated packaging industry, Mondi's dedicated product segment Industrial Coatings has been developing keen barrier liner concepts fully in-line with the new market trends and focussing on the new required environmental legislations in the European Packaging Directives.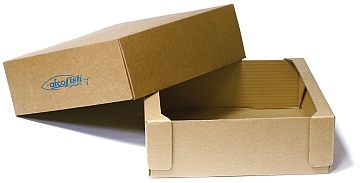 Before Mondi launches any new liner product, the substrate is thoroughly tested by a professional paper institute in order to be warranted for the compliance with the European Packaging- and Packaging Waste directives. This ensures that all Mondi barrier liners are warranted for direct food contact and full recyclability according to the RESY standards.
The corrugated board industry is indeed facing several new challenges, mainly with regards to sustainability. These include for instance the need for packaging weight reduction and substitution from virgin fibre materials to recycled liner and fluting qualities as well as the increasing demand for high-quality printing. These are just some of the most recent developments which the corrugated board industry has to cope with.
As an innovative supplier of plastic- and paper-based materials, providing a full range of technologies like extrusion coating, laminating, siliconising and printing, Mondi has proactively anticipated on these new trends and has developed new types of liner materials that meet these new demands. A further advantage of Mondi is the integrated group structure, e.g. the backward integrated paper supply, the possibility of full control over raw materials in order to ensure the quality and availability are controlled and guaranteed at all times.