Cannon will present at Composites Europe 2016 Show their dedicated solutions for composites mass production. A comprehensive range of technologies and equipment, including carbon fibre preformers, resin dosing units and mixing heads, polymerisation presses, moulds and ancillary equipment, already compliant with the recommendations of the Industry 4.0 "smart factory" scenario, will be illustrated in the Düsseldorf Messe from November 29th to December 1st 2016.
Examples of the most innovative solutions introduced by Cannon (www.cannon.com) for the manufacture of carbon- and glass-reinforced composites for all their possible applications will be illustrated in detail at Composites Europe 2016. Complete manufacturing lines for the production of thermosetting or thermoplastic composite parts are today available at Cannon, from a single, qualified, internationally-based source, with a configuration of electronic controls that makes them suitable for a Industry 4.0 scenario of smart, modularised production cells interfaced through Cloud Computing.
Cannon bespoke solutions for the Automotive, Aeronautics and Transportation industries include:
Fully automatic glass and carbon-fibre preformers, already supplied to major producers of the largest composite parts used today, with cycle times suitable for the automotive industry.
Chemical dispensing units and dedicated mixing heads for Epoxy and Polyurethane resins, using classic injection methods or innovative Liquid Lay Down and Spray Lay Down technologies with multi-component formulations.
A new generation of short-stroke presses suitable for different technologies (HP RTM, Gap Injection, Compression Moulding, etc.) and different reinforcements (carbon and glass fibres, non-woven PP, etc.), featuring an innovative parallelism control system and the largest platen sizes and clamping forces.
Dedicated moulds, available for the most complex and large composite parts.
The innovative CRESIM (Carbon Recycling by Epoxy Special IMpregnation) method for the manufacture of CFRP parts using recycled carbon fibres. This Life+ EU-sponsored project offers a new, innovative manufacturing process which will potentially reuse up to 100% of the carbon fibre waste and scraps from different industrial sectors, transforming a costing environmental problem of today in an opportunity of greening the production processes and getting economic benefit for tomorrow.
A full set of handling and heating systems, safeties and modern electronic process controls.
The complete range of equipment designed for the wind-power industry is rewarding Cannon with growing volumes of business worldwide. It includes:
The dedicated Cannon low-pressure DX machines, Epoxy resin dispensers for the infusion of liquid formulations in the largest blades manufactured for off-shore and conventional wind turbines.
A degassing unit specifically designed to remove air from the resins and avoid the formation of bubbles in the cast parts.
A glue dispenser for the application of two-components adhesives on the edges of the longest blades produced today.
All the above mentioned turn-key solutions are today available for composite parts manufacturers based across the five continents: Cannon extended network of direct offices and agencies guarantees prompt local service, availability of spare parts, technical and marketing assistance.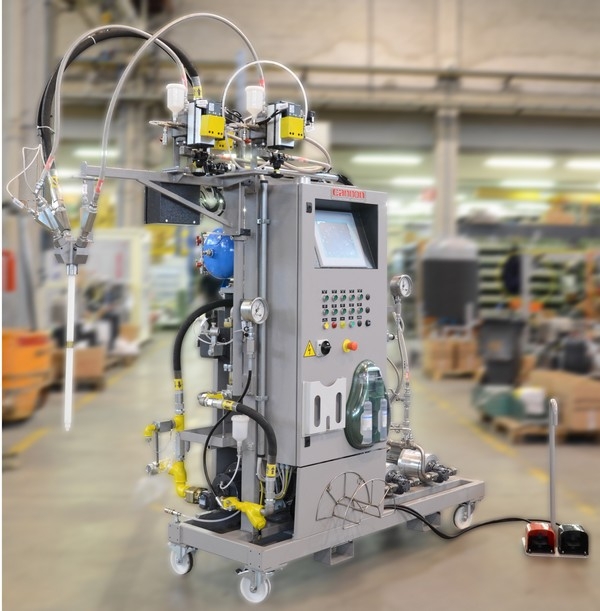 A qualified international team of specialists in composites technologies will welcome all the interested visitors of Composites Europe 2016 in the Düsseldorf Messe, Hall 8b, Booth G51, November 29th - December 1st 2016.