The latest innovation developed by Hans Kolb Wellpappe goes by the name of "Bo-Box" and is a new type of packaging for shipping bottles and bottled goods.
Bo-Boxes are available in two different sizes, i.e. a 6-bottle and 12-bottle version, for different sized and shaped bottles. This innovative, multifunctional product enables different types of bottles and different sized bottles to be shipped using one and the same packaging container and is unique in its design.
This functional packaging container for the safe transport of sensitive packaged goods was developed in collaboration with UPS - Hans Kolb Wellpappe`s global logistic partner.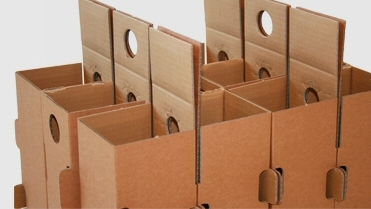 The efficiency of this new packaging container is such that UPS is fully assured that all types of bottles shipped within it will reach their destination safely and intact and that, in the event of any breakage, the damaged item will be safely isolated within the BoBox.
- In addition to an intelligent design, the BoBox was developed with particular attention to the type of corrugated cardboard and type of corrugation used in its construction. The result - a highly efficient structure - includes a perforated board that holds the bottles` necks and arrests their movement, thus preventing them from moving about and from bashing into each other - explained Georg Lübeck, head of packaging development at Kolb and responsible for patenting the BoBox in Germany.
The 6-bottle version, for example, consists of two flat pieces of cardboard that, once assembled, form six independent compartments. Each of the lids that come with this box is equipped with a circular hole, which enables it to be easily closed irrespective of the enclosed bottle`s size. BoBoxes are supplied flat-packed and can be easily assembled by following the instructions printed on them.
- We are expecting Bo-Box to meet with great interest in particular from the beverage and transport industry - explained Dr. Bernhard Ruffing, Managing Director of Hans Kolb Wellpappe, who feels sure that both BoBox`s flexibility with respect to bottle shape and size, as well as its UPS certificate, will assure its acceptance.