This year, Guangzhou / China will be again an international venue, where the entire plastics industry will meet from 16-19 May. BOY will present three of its Injection Moulding Machines at the German joint stand in Hall 5.1 / Booth J 31.
In addition to a BOY 25 E with energy-efficient servo drive, the new table top machine BOY XXS will be the focus of the visitors' interest. A BOY XS (100 kN clamping force) complements the presence at the Chinaplas. One of the focal points of BOY will be the injection moulding of plastic parts on 3D-printed moulds.
Efficient machine technology
Equipped with a servo-drive the BOY 25 E will top the conventional hydraulic drive systems in terms of efficiency, precision and stability. The tried and tested machine type with a clamping force of 250 kN and a footprint of only 1.8 m² offers sufficient space with the free-standing clamping unit even for large-volume moulds. With four of the seven possible screw diameters a higher injection speed can optionally be achieved. With the use of high speed pistons and a hydraulic pump with a 10% higher delivery volume, the BOY 25 E was able to achieve a significant increase of the driving speeds, an improved dynamic and a shorter dry cycle time.
Not just top on the Table
One of the highlights will also be the new BOY XXS (63 kN clamping force). Equipped with proven techniques for continuous industrial operation (servo drive, Procan ALPHA 4), the BOY XXS extends the BOY product range for a wide range of different industries. A tried and tested screw plasticizing, which works according to the "first-in-first-out" principle and allows screw diameters between 8 and 18 mm offers plasticizing volumes from 0.06 up to 10.2 cm³. Beneficially are also the optimized clamping plates of the new BOY XXS especially for microforms of many standards manufacturers.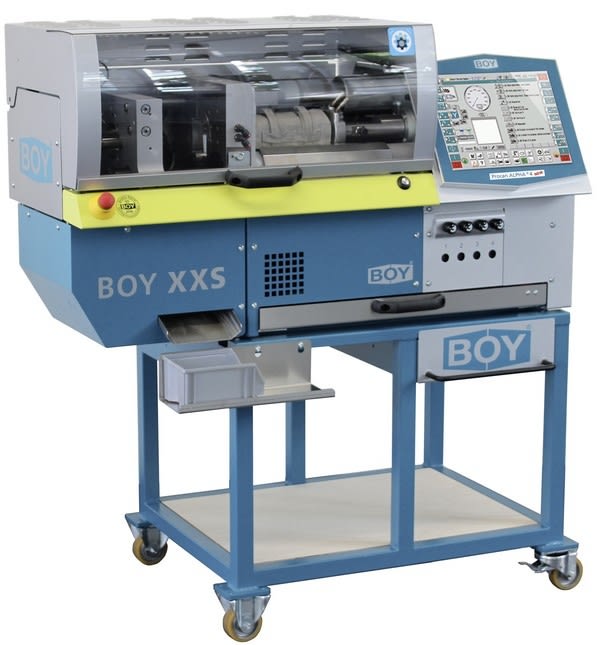 Without any reservations
All exhibits are equipped with the multi-patented control Procan ALPHA. It scores in precision, dynamic and ease of use thanks to its multi-touch-capability. As a result, operating strategies such as scrolling screen pages or a change of pages by wiping - as with modern communication media – are possible. The 15" full-touch display with brilliant LCD-LED technology convinces with screen pages with little text only and memorable symbols. The digital auxiliary function in the control that is used for the machine control in the national language is an additional positive aspect for the customers.
Company profile
Dr. Boy GmbH & Co. KG is one of the leading worldwide manufacturers of injection moulding machines with clamping forces up to 1,000 kN. The very compact, durable machines work precise, energy-saving and therefore highly economical. BOY continually sets new standards in our industry with innovative concepts and solutions.
Since the company was founded in 1968, over 45,000 injection moulding machines have been delivered worldwide. The privately owned company continues to put special emphasis on engineered performance and high-class "made in Germany" workmanship.