Polyethylene 2012

Polyethylene International Round Table Conference
Organizer

Merchant Research & Consulting, Ltd. Central House, 582-586, Kingsbury Road, Birmingham B24 9ND,United Kingdom

Phone:

+44 (20) 7558-8740

Fax:

+44 (20) 7900-3970

e-mail:

info@mcgroup.co.uk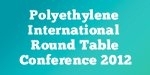 Round Table Conferences are built up to provide effective eye-to-eye discussions, all-round tracking of market issues, attainment of resolutions and market decisions. The Conference participants include market specialists, top managers, government representatives and other respective industry stakeholders.
The products to be covered are:
High density polyethylene – HDPE
Linear low density polyethylene – LLDPE (incl. metallocene linear low density polyethylene – mLLDPE)
Low density polyethylene – LDPE
The issues to be discussed include, but are not limited to:
Global, regional and country markets for polyethylene;
Present market situation, historical background and future forecast;
Polyethylene capacities, production, consumption, trade statistics, and prices;
Polyethylene producers and suppliers;
Polyethylene market forecast for next five years, including market volumes and prices.
Each participant of the Polyethylene Round Table Conference 2012 will be provided with a free copy of the latest version of the 7,500 USD-worth report "Polyethylene 2012 World Market Outlook and Forecast up to 2017" elaborated by Merchant Research and Consulting Ltd.