ComPaMED 2012

International Trade Fair High tech solutions for medical technology
Date:
Location:
Dusseldorf,

Germany

,


Düsseldorf Trade Fair Centre Messeplatz 40474 Düsseldorf North Entrance Halls 8a + 8b
Organizer

Messe Düsseldorf GmbH, Postfach 10 10 06, D-40001 Düsseldorf, Messegelände

Wyłączne przedstawicielstwo na terenie Polski:
A.S. Messe Consulting sp. z o.o.
ul. Bokserska 71
02-690 Warszawa

Phone:

+48 22 8435474

Fax:

+48 22 8431825

www:

e-mail:

targi@as-messe.pl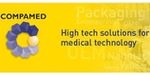 The leading international trade fair for suppliers of medical technology, COMPAMED in Düsseldorf, continues its success story in parallel with MEDICA, the world's biggest medical trade fair.

Materials, systems and packaging are solutions for today, but COMPAMED also provides glimpses into the more distant future. These include not only the visions of Ergonomidesign, but also the NEUWalk research project funded by the European Union. ComPaMEd 2011 Summary: Even suppliers to the medical technology sector are benefiting from the current growth trend in the medical technology industry. This was once again impressively demonstrated by the outstanding reception shown by exhibitors and visitors alike at COMPAMED 2011 in Düsseldorf.

"Manufacturers and suppliers are cooperating more and more on all levels of the value adding chain, whether in product development, specific services, or even complete contract manufacturing. In light of this, staging COMPAMED together with MEDICA, the world's biggest medical trade fair, is now more than ever a central success factor," says Joachim Schäfer, manager of Trade Fair Düsseldorf, about the successful interaction between COMPAMED, as the leading international market and communication platform of the suppliers to the "medtech" industry, and MEDICA, the top global industry event showcasing end products for use in hospitals and doctors' practices. Of the 134,500 visitors to MEDICA and COMPAMED 2011, over 16,000 were specifically interested in the topics and the products of the 627 exhibitors at COMPAMED (16 to 18 November / MEDICA to 19 November 2011). 4,571 exhibitors took part at MEDICA 2011.
Previous editions