Polyolefin Additives 2012

Polyolefin Additives 2012 - International conference on technical and market developments in polyolefin compounding
Date:
-
Location:
Cologne,

Germany

,


Hotel Maritim
Organizer

Applied Market Information Ltd. 45-47 Stokes Croft, Bristol BS1 3QP, United Kingdom

Phone:

+44 (0)117 924 9442

Fax:

+44 (0)117 311 1534

www:

e-mail:

ge@amiplastics.com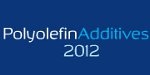 The 5th AMI international conference on Polyolefin Additives and compounding will take place from 23-25 October 2012 at the Maritim Hotel in Cologne, Germany. The event starts with an evening reception and exhibition on 23rd followed by a 2-day programme of market and technical presentations.

Many topics are discussed at this conference, which principally looks at polyethylene and polypropylene materials, including markets for polyolefins, developments in additives such as UV stabilisers, heat stabilisers, flame retardants, anti-slip and anti-fog, as well as the latest research, testing and regulations.

The conference brings together leading experts to discuss the latest research and development for today's polyolefin markets and offers an international forum for end users, compounders, raw materials suppliers and plastics processors to discuss the latest developments in polyolefin compounding.