Polymers in Photovoltaics 2013

AMI's Polymers in Photovoltaics 2013
Date:
-
Location:
Cologne,

Germany

,


Maritim Hotel Cologne Heumarkt 20 Cologne D-50667
Organizer

Applied Market Information, Ltd. Bristol

Phone:

+44 117 924 9442

Fax:

+44 117 311 1534

www:

e-mail:

rju@amiplastics.com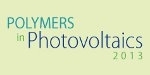 AMI is pleased to announce the dates for the fourth international conference Polymers in Photovoltaics 2013, for companies involved in the photovoltaic manufacturing industry. The conference will take place on the 16th - 18th April 2013 at the Maritim Hotel in Cologne, Germany. There is an evening reception and exhibition on the 16th followed by a 2-day programme.

Photovoltaic power continues to grow in the global alternative energy market and the recent reductions in module prices are moving the industry towards grid parity. There are two big pressures on manufacturers - cost and 25-year lifetime expectancy. The polymer components such as encapsulants, back sheets, adhesives, sealants, connectors and front sheets, are all critical parts. New research shows that innovations in compounding can enhance the efficiency of energy generation and improve durability. There is much debate over testing and certification, with the lead institutions looking to achieve global harmonisation, but what is an appropriate performance standard for these materials and does it vary with the service conditions?

Polymers in Photovoltaics 2013 examines a wide range of topics on module manufacturing including the markets, materials, manufacturing equipment, innovative technology and certification worldwide. It provides a unique networking and sourcing opportunity for module manufacturers, solar power companies and suppliers to the industry.