Polymer Foam 2012

International conference on blowing agents and foaming technology for thermoplastics and elastomers
Date:
-
Location:
Newark,

United States of America

,


The conference will be held at: Sheraton Newark Airport Hotel 128 Frontage Road
Organizer

Kelly Cressman, Conference Coordinator APPLIED MARKET INFORMATION LLC 1210 Broadcasting Road - Suite #103 Wyomissing, PA 19610

Phone:

+1 610 478 0800

Fax:

+1 610 478 0900

e-mail:

kc@amiplastics-na.com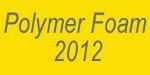 Applied Market Information LLC is pleased to announce the dates for the next international conference on blowing agents and foaming technology for thermoplastics and elastomers, Polymer Foam 2012. The conference will take place on October 9-10, 2012 at the Sheraton Newark Airport Hotel, Newark, NJ, USA.
Foams from thermoplastics are lightweight, low density products. They have many beneficial properties that are exploited in different applications from sound and thermal insulation in building panels, to impact absorption in automotive components, sports applications and packaging foams. The foaming process is used to cut material use and to reduce weight for many uses from window profiles to vehicles, so the environmental credentials of the industry are very appealing. Researchers have also developed methods for processing bio-origin plastics like PLA.
Polymer Foam 2012 aims to provide an international forum for plastics specifiers and the foam manufacturing industry to meet and discuss new production technology and uses of cellular plastic materials. It will be a place to talk about blowing agents and foaming processes with the experts in this field.
Historically, Polymer Foam has been exceptionally well attended and we plan to build on this success in 2012. The reintroduction of this conference is already receiving a great deal of positive attention and we want you to share the experience with us!
For more information please visit:
event's website
-OR-
Email kc@amiplastics-na.com