Plasturgie Composites- Forum 2013

Forum on the plastics and composite material
Date:
-
Location:
Paris,

France

,


Disneyland Paris's Congress Centre
Organizer

IDICE SAS -33 Cours de Verdun - BP 219 - 01106 OYONNAX CEDEX - FRANCE

Phone:

+33 (0) 4 74 73 42 33

www:

e-mail:

info@idice.fr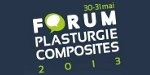 A new event bringing together the entire plastics and composite material industry will be held on the 30th and 31st of May 2013 at Disneyland Paris's Congress Centre.
This event is a real platform for knowledge transfer aiming to bring together key industry players. A new type of event This forum is a genuine trade campus and will be a unique opportunity for meetings and exchanges between professionals. Priority will be given to the dissemination of the latest technological research results.

Major current economic, legal or social topics will also be discussed and you can tailor your programme to suit your interests.

The programme will consist of plenary conferences, introduced by politicians, economists and industrialists, and also workshops, meeting highlights, and an exhibition, all in a privileged context and environment.

The Conference on Plastics and Composite Materials is both didactic and pragmatic and, as such, promises two busy, effective, and productive days for any professional or principal in the Plastics Industry. The whole trade will be brought together The Fédération de la Plasturgie, Allizé Plasturgie, Dip-Icap, Plasti-Ouest, Elipso, l'AFIM, Plastipolis, PEP (Centre technique de la plasturgie), Ispa, as well as the ACDI (Association des Constructeurs et Distributeurs d'Equipements et matières pour la Plasturgie) have already confirmed their support and involvement in this new event.