Plastics in Photovoltaics 2012

The international technology and business conference on plastics, adhesives and elastomeric materials in solar modules
Date:
-
Location:
Phoenix,

United States of America

,


Hyatt Regency Phoenix
Organizer

Applied Market Information LLC 1210 Broadcasting Road, Suite #103 Wyomissing, PA 19610, USA

Phone:

+1 610 478 0800

Fax:

+1 610 478 0900

www:

e-mail:

as@amiplastics-na.com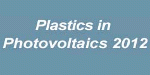 The conference will comprise of a technical and market program of industry speakers covering two days, with a drinks reception and luxury snack buffet at the end of the first day to maximize networking opportunities.

Renewable energy sources are critical to sustainable development. Solar photovoltaic modules offer stand-alone power in remote locations and solar farms are now supplying national networks worldwide. The technology has great potential and what is needed now is economies in manufacturing for solar power to become cost-effective and sustainable without subsidies.

PV cells can be made flexible and built into roofing, wrapped around buildings (BIPV), integrated into devices (like solar panels to power aircon in the automobile industry), and woven into military clothing and equipment to charge batteries for mobile units. Polymers are found in components such as front sheet materials, encapsulants, thin film substrates, photoactive layers (as silicon replacements), support casings, back sheet materials, high performance seals, adhesives and as glass replacement in front covers and concentrating lenses. Plastics offer easy processing and flexibility.
| | |
| --- | --- |
| : | |
| | AMI provides market information, conferences and books to the plastics industry worldwide. |