Plastics in Photovoltaics 2011
Date:
-
Location:
Philadelphia, PA,

United States of America

,


The Hilton City Avenue
Organizer

Applied Market Information Ltd. AMI House 45-47 Stokes Croft Bristol BS1 3QP

Phone:

+1 610 478 0800

Fax:

+1 610 478 0900

www:

e-mail:

as@amiplastics-na.com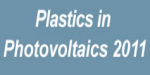 The international technology and business conference on plastics, adhesives and elastomeric materials in solar modules comprises a technical and market program of industry speakers covering two days, with a drinks reception and luxury buffet snacks at the end of the first day to maximise networking opportunities.

Renewable energy is an expanding global market to provide sustainable power sources. Solar photovoltaic modules offer stand-alone power in remote locations and solar farms are now supplying national grids worldwide. In addition, domestic and business site solar panels are enabling owners to generate revenue from sales to the grid, as well as subsidising their own electricity bills.

The solar module industry needs to make economies in manufacturing to be more cost-effective and sustainable without subsidies. New manufacturing technology is under development, and also innovations in polymer materials for module components. Polymers offer chemical resistance, flexibility, availability and easy processability. The flexibility is of particular interest in small portable cells and building integrated photovoltaics. Polymers are found in components such as front sheet materials, encapsulants, thin film substrates, photoactive layers (as silicon replacements), support casings, back sheet materials, high performance seals, adhesives and as glass replacement in front covers and concentrating lenses.

Standards and test protocols are in use and under review for the solar power industry to ensure long service life and weatherability. Plastics in Photovoltaics 2011 provides a unique networking and sourcing opportunity for module manufacturers, solar power companies, polymer and processing experts, and suppliers to the industry.