Organizer

easyFairs Scandinavia AB F O Petersons gata 24 421 31 Västra Frölunda - Sweden

Phone:

031 - 89 41 13

www:

e-mail:

lena.bjorndahl@easyFairs.com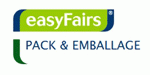 The easyFairs® Pack & Emballage in Malmö is a trade fair for packaging technology and the perfect opportunity for presenting innovative materials and new technologies. International manufacturers are represented here at this trade fair to showcase the latest trends and innovation to a knowledgeable audience. This fair is the ideal platform for suppliers and decision makers in the industry.

Encompassing eastern Denmark and southern Sweden, the Öresund region boasts some 165,000 businesses and generates about a quarter of the combined GDP of Sweden and Denmark.

Just across the sound from Copenhagen, Sweden's southernmost county, Skåne, contributes one-third of the country's agricultural production and 45% of annual turnover… while the Danish food industry – also concentrated in the Öresund region – produces 66% of its agriculture and 90% of its fish. This sector boasts giants such as Nestlé, Unilever, Orkla, Campbell's, Masterfoods, Arla, Danish Crown, Danisco and Tulip, as well as innovators in food processing and packaging such as ABB, Alfa Laval, Rexam and Tetra Pak.