Organizer

JSC "Kyiv International Contract Fair" P.O. box "B-13", Kiev, 01001, Ukraine

Phone:

+38 (044) 461- 9342

Fax:

+38 (044) 490-6337

www:

e-mail:

info@kmkya.kiev.ua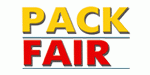 Pack Fair can be without any doubt considered the starting point of entrepreneurship activity for every participant of the packaging market.
This is the place where all market processes, type and range of market changes are reflected, and also tendencies of further development are shown.

The exhibition is officially approved by the Global Association of Exhibition Industry (UFI), is a member of the World Packaging Organization (WPO) and Confederation of Organizers of Packaging Exhibitions (COPE).

During the long years of its existence Pack Fair has turned from an ordinary marketing instrument into an irreplaceable element of packaging industry development in Ukraine.

In 2012, Pack Fair will be held in a new format: 3Р - Packaging, Printing, Polymers.

Such format of the exhibition is an ideal solution for successful development and stimulation of Ukrainian packaging industry.