PLA World Congress 2012

2nd PLA World Congress
Date:
-
Location:
Munich,

Germany

,


Holiday Inn Munich City Centre
Organizer

bioplastics MAGAZINE Polymedia Publisher GmbH

Phone:

49(2161)-664864

www:

e-mail:

info@polymedia-publisher.com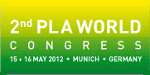 PLA (Polylactic acid) is a transparent plastic made from sugar or glucose, one of bioplastics with the largest market significance. The plastics is used in the packaging, automotive, consumer electronics industries.

Experts from all involved fields will share their knowledge and contribute to a comprehensive overview of today's opportunities and challenges and discuss the possibilities, limitations and future prospects of PLA for all kind of applications.