Date:
-
Location:
Toronto,

Canada

,


Toronto Congress Centre 650 Dixon Road
Organizer

Canon Communications LLC (known as UBM Canon) 11444 W. Olympic Blvd. Los Angeles, CA 90064-1549

Phone:

+1 310/445-4200

Fax:

+1 310/996-9499

www: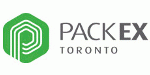 Plan to Attend PACKEX Toronto, Canada's Most Comprehensive Resource for Packaging and Processing.

MEET FACE-TO-FACE with leading suppliers. Why spend countless hours online or looking through catalogues when you can spend a day or two at PACKEX meeting with knowledgeable suppliers who can provide you with everything you need. Hundreds of top suppliers are gathered together at your disposal, ready to help solve your challenges and save you money.

DISCOVER A RESOURCE HALL FILLED TO THE BRIM with innovations in packaging and processing. Enjoy hands-on access to the latest in flexible packaging, cartons, labels and tags, custom automation equipment, contract services, printing, converting, processing, materials, material handling, software, and much, much more.

ADVANCE YOUR KNOWLEDGE at the PAC Conferences at PACKEX. Organized and produced by PAC — The Packaging Association, this year's conference will cover the most timely and in-demand topics for packaging professionals, and will feature the Walmart Sustainable Packaging Conference V.

BONUS! More Resources, One Convenient Location For years, PACKEX has been your trusted resource for innovative packaging and processing solutions, and this year a visit to PACKEX offers even more benefit. PACKEX is joined by other key manufacturing events to provide additional resources for you and your team — all under one roof!