Muovi Plastics 2008

Muovi Plastics 2008 - Plastics and rubber sector?s special trade fair.
Organizer

Lahti Fair Ltd. Projektmanager Olli Patja P.O. Box 106, FIN-15141 Lahti GSM +358 40 584 0840

Phone:

+358 3 525 820

Fax:

+358 3 525 8225

www:

e-mail:

olli.patja@lahdenmessut.fi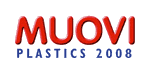 National and international companies and industry professionals will gather to Lahti for the plastics and rubber sector's special trade fair. The main themes of the Plastics 2008 are:
Developing manufacturing technology
Solving environmental challenges with the aid of plastics
New materials and composite structures
The Plastics 2008 special fair is aimed at plastics industry professionals. On display will be materials, machining tools and ancillary equipment as well as the reinforced plastics and composite industries and manufacturers of semifinished goods and casts. The fair's educational events will place great emphasis on training in the use of plastics.
In cooperation with the industry's main organisations
The Finnish Plastics Industries Federation
The most important employer federation of the plastics industry in Finland. Its main activities are lobbying for the interests of the industry and dealing with the authorities. The Federation has 117 corporate members
The Finnish Plastics Association. The association?s 1,400 individual members represent over 800 companies involved with the plastics industry. Its main task is the handling of intra-sector communication of information
The Muovipoli Association. Community for corporate experts in plastics technology, development and education
VIP customer evening - Wed, November 12
The special VIP customer evening will be held on the fairgrounds on Wednesday 12 November 2008 from 6 pm to 9 pm . The VIP customer evening gathers the industry's most significant customers and decision-makers in one place. Exhibition Catalogue The Exhibition Catalogue will accompany issue six of the Muovi-Plast - magazine, which will be published in October 2008. It is the only Finnish trade magazine for the plastics industry and the special fair issue will be sent to some 5,000 subscribers, including the companies and associations of the rubber industry.