Interplast 2012

Plastic Technology Exhibition & Congress
Organizer

Rua Araranguá, 77 América Joinville, Santa Catarina, CEP 89204-310.

Phone:

047 3451-3000

Fax:

047 3451-3001

e-mail:

feiras@messebrasil.com.br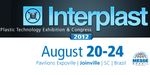 The largest Plastic Industry exhibition in South America, outside of São Paulo, Interplast 2012 commands the attention to attend this truly international event hosted in South Brazil.

The southern states of Brazil constitute the second largest market for the Plastics Industry in South America. The region has an impressive number of well known brands spanning a spectrum of industries including: Automotive, Electrical Appliances, Construction, Furniture, Cosmetics, Healthcare, Pharmaceuticals, Packaging, and Home Wares, amongst many others.

Interplast 2012 provides the forum for Exhibitors and Visitors to explore business opportunities from both within their existing and new markets. The concentration of Attendees, both national and international, representing every sector of the Plastics Industry, enables participants to identify new sales leads outside of their normal business development channels.