ISBP 2012

The 13th International Symposium on Biopolymers
Date:
-
Location:
Cairns,

Australia

,


Pullman Reef Hotel
Organizer

Leishman Associates 113 Harrington Street Hobart. Tasmania. Australia

Phone:

+ 61 3 6234 7844

Fax:

+61 3 6234 5958

e-mail:

nicole@leishman-associates.com.au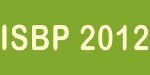 At ISBP 2012 broadened focus on biopolymers will be continued and this year in main stream plastics production as well as what is in the pipeline for the bioplastics industries of tomorrow.

International leading scientists in biology, chemistry, processing, fermentation technology and industrial production of PHA have contributed in the past to ISBP meetings.Experts from around the world will present talks and posters to all areas of the rapidly growing bioplastics fields.