IRC 2013

International Rubber Conference
Date:
-
Location:
Paris,

France

,


Palais des Congrès Porte Maillot
Organizer

AFICEP - 60, Rue Auber - 94408 Vitry sur Seine Cedex - FRANCE

Phone:

+33 (0)1 49 60 57 85

www:

e-mail:

valerie.flauraud@wanadoo.fr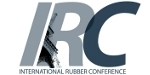 As a true showcase of the profession, the
International Rubber Conference 2013
will bring together all companies operating in this industry:
raw material suppliers,
distributors,
processors of any material,
product blend manufacturers,
equipment and machinery manufacturers,
control and measurement systems,
design offices,
research and training centres,
clusters,
competitiveness poles and government agencies.
The event will enable them to reveal their expertise to the whole world.

The Annual World Congress, alternating plenary conferences and workshops, will be held during the trade fair. Based on advanced research and development, the Congress will cover scientific and technical research, production, development, and rubber and polymer use topics. 5 major areas have been identified:
Chemical aspects and formula ingredients,
Manufacturing processes and optimising procedures,
Eco-design and end of life recovers, safety, health, and the environment,
Innovation in rubber product design and uses,
Prospects and perspectives for the Rubber industry.