ICIS Latin American Polymers Conference
Date:
-
Location:
Sao Paulo,

Brazil

,


Sao Paulo, Brazil
Organizer

ICIS, Quadrant House, The Quadrant, Sutton, Surrey, SM2 5AS, UK

Phone:

+44 (0)20 8652 3233

www:

e-mail:

events.registration@icis.com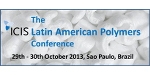 The
ICIS Latin American Polymers Conference
has been designed to equip executives involved in the polymers industry with the most up-to-date information about industry trends and market dynamics to enable them to identify new business opportunities and make informed buying decisions.
Held on 29th – 30th October 2013 in Sao Paulo, Brazil
, key sessions at the conference include:
A vital perspective on the global polymers market with a focus on developments in Latin America
Latest industry projections and in-depth supply and demand analysis for PE, PP, PET, PVC and PS
An update on North American shale gas, ethylene and propylene projects and their impact on the Latin American market
Leader manufacturers' perspectives on the status of the industry
Up-to-the-minute information on developments in the bio-plastics sector
Insight into changing trade dynamics in global petrochemicals markets and how Latin America can keep his competitive edge
This unique, commercially focussed conference is the best way to ensure you keep on top the latest market developments, and enable yourself to capitalise on the opportunities that arise in the coming year.
Attend to:
Gain an insight into global trading dynamics
Understand the implications of shale gas on Latin America's polymers markets
Receive information about the latest developments in key polymers markets including PET, PE, PP, PS and PVC
Learn about the latest trends in bioplastics
Hear insights from leading industry players including Braskem,Mexichem, Dow, Abipet and Global Reciclagem
Cultivate lasting business relationships
Visit the website
to find out more and register your place today. Remember to use code JZA56376 when registering to get the best rate.