Organizer

ENGEL Austria GmbH

,

Ludwig-Engel-Straße 1

,

4311

Schwertberg

,

AT

Phone:

0043 699 1620 9516

www:

e-mail:

events@engel.at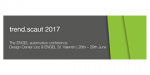 Experience innovative technologies live in the Technical Centre
The first day of the conference is dedicated to keynote speeches and discussions. The event venue will be the Design Center in Linz. The second day revolves around practical applications. In ENGEL's large-machine factory in St. Valentin, participants will be introduced to several machine exhibits with leading-edge new technologies:
On an ENGEL duo 1000 large-scale machine, door panels will be produced using DecoJect. In a highly automated production cell, DecoJect combines the in-mould graining of thin foils with injection moulding, making the harmonisation of interior surfaces particularly economical.
In collaboration with its system partners Hennecke and KTM Technologies, in St. Valentin ENGEL will present excerpts from the automated production of a motorcycle license plate holder for the KTM 1290 SuperDuke. Through the use of CAVUS technology on an ENGEL elast 400 injection moulding machine, the application achieves an impressive weight reduction of over 60 percent as compared to the current series component. Developed by KTM techologies, the CAVUS will make it possible in future to produce complex fibre-reinforced hollow components using the automated, high-pressure RTM process.
Thirdly, the Technical Centre of ENGEL in St. Valentin will show the in-situ polymerisation of ε-caprolactam immediately followed by the functionalisation of FRP support structures through injection moulding. The reactive and injection moulding processes will take place in parallel within a production cell surrounding an ENGEL v-duo 700 vertical machine. With its integrated two-component process, ENGEL has achieved a major milestone on the road to utilising thermoplastic-based FRP components even more in vehicle manufacturing.