GRC 2018

14th Global Rubber Conference 2018
Date:
-
Location:
Sokha Beach Resort

,

Sihanoukville

,

Cambodia
Organizer

Confexhub Suite 1707, 17th Floor, Plaza Permata, 6 Jalan Kampar off Jalan Tun Razak 50400 Kuala Lumpur, Malaysia

www:

e-mail:

grcsecretariat@confexhub.com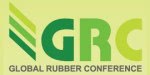 The Future of Rubber Industry: Shaping the Megatrends and Unlocking Opportunities
Sihanoukville, Cambodia has been chosen to be the host venue of the 14th Global Rubber Conference. This prestigious Conference is hosted and co-organized by the Association for Rubber Development of Cambodia, produced, organized and managed by Confexhub.
Group and supported by International Rubber Research Development Board (IRRDB) and over 10 international rubber government bodies and associations. The GRC 2018 is expected to attract more than 300 delegates from natural and synthetic rubber (both upstream and downstream sectors) and their supporting industries representing over 25 countries.
This conference is designed to supports the growth of the rubber industry by delivering objectives, accurate updates and latest R&D to conference delegates and provide an excellent platform to discuss commercial prospects and opportunities and better under standing on the rubber market pricings.
As the only platform that brings together the regulatory authorities and commercial players of the rubber and rubber-products, it has been proven to be highly successful in its objectives to facilitate the exchange of ideas and insight into the global rubber industry and the price discovery of rubber.
THE OBJECTIVES OF GRC 2018

• Brings together both regulatory authorities and commercial players of the rubber world to provide updates on current trends and future challenges faced by NR industry
• Facilitates the exchange of ideas and insigh t into the global rubber industry and the price discovery of rubber
• Presents unparalleled benefits for business matching potential and investment opportunities in the global NR producing and consuming countries
• Delivers latest applications from global research and development programs through a well-designed sponsorship program and an exhibition
• An annual get-together for decision makers from global NR & SR industries that encourage networking and the exchange of perspectives
Previous editions