Chemical Sales & Marketing Toolbox 2014
Date:
-
Location:
Berlin,

Germany

,


Berlin, Germany
Organizer

European Business Conferences Group, EBCG office in Slovakia, Eurovea Center I Bratislava, Pribinova 4, 811 09 Bratislava

Phone:

+421 2 32202283

Fax:

+421 2 3220 2222

e-mail:

petra.cerovska@ebcg.biz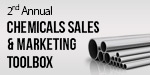 Today's reality for businesses involves the changing needs and requests of customers. You may be wondering how you can meet their specific needs while at the same time increasing your profitability. The Chemical Sales & Marketing Toolbox in Berlin (3-4 June 2014) organized by EBCG can provide these answers and many more.
This cross-segment chemicals event will bring together the European chemicals elite and will reveal concrete tools that will solve challenges like:
How to optimize profit opportunity in every deal?
How you can open the door for a lasting relationship with your customers?
Which tools are the most effective to build a highly successful international sales team?
How to use market analysis matrices to take advantage of opportunities to grow in EMEA and emerging markets?