CPS 2014

Consumer Packaging Summit 2014
Date:
-
Location:
Shanghai,

China

,


Ramada Plaza Pudong Shanghai – Ballroom A
Organizer

Advantique Group Pte Ltd, 1 Kaki Bukit Road 1, #02-44 Enterprise One, Singapore 415934

Phone:

+603 8075 8200

Fax:

+603 8071 1435

e-mail:

info@advantiquegroup.com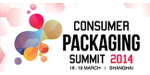 Consumer Packaging Summit is a 2-day conference that focuses on strategies to deliver brand's message and connecting with consumers using packaging, lightweighting developments, and sustainability trends for packaging. Latest packaging innovations for food, beverage and cosmetics products will be highlighted. The program agenda features the following key topics:
Creating new and desirable experiences around packaging to excite and engage consumers
Case studies: Making packaging as part of the marketing strategy more effectively
How packaging developments can help in achieving sustainability targets?
Moving towards zero waste in packaging
Use of post-consumer recycled content in packaging and challenges
Green packaging developments
Growth of Retail Ready Packaging in Asia
Smart Packaging: the technology that enables consumers to connect with and communicate better with products
Latest material innovations in packaging and how lightweighting packaging can reduce costs and waste
The Consumer Packaging Summit is a premier gathering for packaging developers, packaging material suppliers and consumer goods companies. Attend the Consumer Packaging Summit to stay ahead on the latest packaging innovations, learn practical approaches to developing effective packaging strategies and get inspirations to innovate.