CIRR 2011

Resources Recycling Industry Exhibition 2011
Date:
-
Location:
Shanghai,

China

,


Shanghai Everbright Convention & Exhibition Centre East hall
Organizer

CBI Events 799 Tianshan -W- Road, Shanghai, 200335, China

Phone:

+86 21 5155 0820

Fax:

+86 21 5155 0823

e-mail:

exhibition@cbichina.com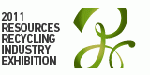 CIRR is focused on resources recycling. The grand event gathered professionals from Japan, the United States, Germany, Estonia, Belgium, Ireland, Australia, Mauritius, Singapore, Thailand, Vietnam, United Arab Emirates, Canada, France, Korea, the United Kingdom, Belgium, India, Hong Kong and Taiwan etc. And total 320 exhibitors, more than 16,000 visitors as well as over 5,500 recycling recovered companies and privates came to join in this annual event, to share information and enhance mutual communications.

Early 2010 saw vigorous economic growth of ASEAN countries and the introduction of "Zero Tariff" within China-ASEAN Free Trade Area, driving up import and export among ASEAN countries. CIRR therefore attracts increasingly more attention from businessmen of ASEAN countries and even all over the world. In this context, CBI overseas team is committed not only to maintaining business exchanges among European, American and Japanese enterprises, but also to identifying promising enterprises in emerging markets, for the purpose of collecting more supply and demand information and improving data base for the domestic and overseas recycling scraps suppliers.