BrauBeviale 2018
BrauBeviale - Capital goods exhibition for the beverage industry
Organizer

NürnbergMesse GmbH Messezentrum 1 90471 Nürnberg Germany

Phone:

+49 9 11 86 06 - 49 99

www:

e-mail:

visitorservice@nuernbergmesse.de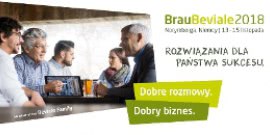 Inspiring, constructive, solution-orientated, 13 - 15.11.2018 Exhibition Centre Nuremberg
When one Conversation moves the whole Industry... then it's not over after a Year

Continuity is the big advantage of BrauBeviale. With its concentrated 3-year power, it provides space for new ideas - and time for them to develop. Not just the mega-trends in the industry, but also the smaller topics that offer so much potential for innovation.
Success Story of BrauBeviale

Almost 38,000 trade visitors in 2016, BrauBeviale was the most important international capital goods exhibition for the whole beverage production process chain: raw materials, technologies, logistics and marketing. Small and medium enterprises and global players from Europe and the rest of the world used the creative atmosphere at BrauBeviale to develop solutions. It has long been one of the leading European exhibitions for the production and marketing of beer and non-alcoholic drinks.
BrauBeviale
Messezentrum
90471 Nürnberg
Date and opening times:
13. - 15. November 2018
09:00 - 18:00 Uhr (13. und 14.11.)
09:00 - 17:00 Uhr (15.11.)