Blow Molding Conference 2012

28th Annual ABC 2012 Blow Molding Conference
Date:
-
Location:
Pittsburgh,

United States of America

,


Sheraton Station Square Hotel
Organizer

Plastic Technologies, Inc. 1440 Timberwolf Drive, P.O. Box 964 Holland, OH 43528-0964

Phone:

+1 419 867-5424

e-mail:

r.puvak@plastictechnologies.com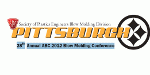 The Blow Molding Division of the Society of Plastics Engineers (SPE) has announced the date and location for its 28th Annual Blow Molding Conference. The conference will feature industry speakers presenting segments in packaging, medical and industrial applications. This year's event will be supported by the Pittsburgh Section. A very active and dynamic SPE section their involvement will bring a strong regional focus.

The conference will again include comprehensive mini-sessions featuring instruction on technology, processes, troubleshooting and the methodologies of blow molding. Led by industry experts, these sessions will provide invaluable tips, suggestions and solutions for a wide variety of subjects.

The SPE Blow Molding Division's annual awards will be presented at dinner, which will recognize student scholarships and student design winners. A special segment of the evening will be dedicated to the Division's Lifetime Achievement Award.

We invite companies to highlight themselves at the conference and support the SPE Blow Molding Division. Sponsorship dollars provide educational grants to students, help recruit new members to the Division and support the Annual Blow Molding Conference — an unparalleled networking platform for current and prospective blow molding professionals.