Bio-based Plastics and Composites 2012

5th International Congress on Bio-based Plastics and Composites
Organizer

nova-Institut für politische und ökologische Innovation GmbH Industriestrasse 300 50354 Huerth, Germany

Phone:

+49(0)2233-48-1449

www:

e-mail:

lena.scholz@nova-institut.de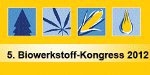 The "Biowerkstoff-Kongress - International Congress on bio-based Plastics and Composites and Biotechnology" is the second biggest, regular event on bio-based materials in Europe.
The year 2011 has experienced acceleration regarding the raw material shift in the chemical and plastics industry. Clear political requirements towards a bio-based economy have become a world-wide phenomenon which includes bio-based plastics and composites along with bio-based additives and green chemistry. In over 20 lectures and an exhibition we will introduce the latest developments of main players from Italy and Scandinavia - both are our focus countries/regions this year - as well as Germany, North America and Asia. The theme covers the whole area of bio-materials, additives and industrial biotechnology. Additionally agents from assemblies along with political representatives will present the new proposed political frameworks.
The 5th International Congress on Bio-based Plastics and Composites builds on successful previous congresses: in 2011 were 150 participants and nearly 20 exhibitors represented. We will expand this success in 2012 and we expect 200 participants and 30 exhibitors.
Our participants:
Investment decision makers from industries and science
Executive managers from research and development
Engineers and designers from product development
Managers and technology-oriented innovation advisors
Trend scouts and decision makers from marketing and trade
Decision makers from politics, federations and associations.