Bio-based Conference 2013

6th International Conference 2013 on Industrial Biotechnology and Bio-based Plastics & Composites
Date:
-
Location:
Cologne,

Germany

,


Maternushaus Köln, Kardinal-Frings-Str. 1-3, 50668 Köln / Cologne, Germany
Organizer

nova-Institut GmbH Chemiepark Knapsack Industriestraße 300 50354 Hürth, Germany

Phone:

+492233-48-1440

Fax:

+492233-48-1450

www:

e-mail:

contact@nova-institut.de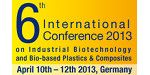 This conference aims to provide major players from the US and German bio-based chemicals and plastics industries with an opportunity to present and discuss their latest developments and strategies. Representatives of political bodies and associations will also have their say alongside leading companies. For the very first time, the conference will count with a third day especially dedicated to the latest research activities in the field of industrial biotechnology & bio-based plastics. More than 250 participants mainly from industry are expected.