AMI's Multilayer Packaging Films 2011
Date:
-
Location:
Cologne,

Germany

,


Maritim, Hotel Heumarkt 20 50667 Köln Germany Tel: + 49 221 20270 Fax: + 49 221 2027826 Email: info.kol@maritim.de
Organizer

Applied Market Information Ltd. AMI House 45-47 Stokes Croft Bristol BS1 3QP United Kingdom Tel: +44(0)117 924 9442 Fax: +44(0)117 989 2128 info@amiplastics.com www.amiconferences.com

Phone:

+441173111511

Fax:

+441173111534

www:

e-mail:

cf@amiplastics.com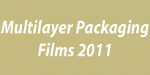 AMI's 6th international Multilayer Packaging Films 2011conference takes place in Europe from 25-27 October at the Maritim Hotel in Cologne, Germany. There is a welcome reception and registration on the first evening followed by a 2-day programme of technical and market presentations at this speciality films conference.

The event provides an international forum for all companies involved in the manufacture and use of Multilayer Packaging Films, be they users, producers, distributors, importers or suppliers to the industry.

If you would like to attend, have a tabletop exhibition space or sponsor Multilayer Packaging Films 2011, please contact Clara Fontana, Conference Organiser, email: cf@amiplastics.com Tel: +44 117 924 9442.

Papers are invited on all aspects of Multilayer Packaging Films, including global and regional market trends, materials and technology. Speakers have a 30 minute slot including a 25 minute PowerPoint presentation and 5 minutes for questions, and attend the conference free of charge. If you are interested, please send a short summary of your paper to Dr. Sally Humphreys before the deadline of 8th April 2011. Email: sh@amiplastics.com Tel: +44 117 924 9442.