AMI's Medical Grade Polymers 2013
Date:
-
Location:
Boston/Woburn,

United States of America

,


15 Middlesex Canal Park Road, Woburn, Massachusetts 01801
Organizer

Stephanie Berchem - Conference Coordinator Applied Market Information LLC, 1210 Broadcasting Road, Suite 103, Wyomissing PA 19610, USA

Phone:

+1 610 478 0800

Fax:

+1 610 478 0900

www:

e-mail:

sb@amiplastics-na.com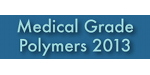 AMI's Medical Grade Polymers 2013 is scheduled for September 17th-18th at the Crowne Plaza Boston-Woburn, Woburn, MA, in the heart of one of the top medical manufacturing regions of America.

The medical device industry is under exceptional economic pressure with the advent of the medical device tax and the trend by insurers to limit the amount to be paid for specific hospital procedures. At the same time, the manufacturing process is among the most highly regulated in the world to ensure patient safety, so the cost pressure must be balanced against the highest quality standards.

Polymers can replace metals in many situations and reduce costs by molding one part instead of multiple components. The plastics industry offers advice on material selection, properties and processing to medical device designers. Many companies have registered polymers with the FDA in a Drug Master File, to assist with the approval process. However, a lot of resin suppliers limit the use of their materials in medical and pharma applications and this is another factor to consider. This restriction on polymer selection has led to many medical manufacturers linking up with research institutes to develop their own new material supplies. Healthcare is improving all the time and the innovations need new plastics and elastomers with appropriate properties.