At the Chinaplas trade show Ferromatik Milacron will show a high performance injection molding machine of the F-Series with a clamping force of 1,600 kN.
With these technologically sophisticated machines of the F-Series, Ferromatik Milacron covers the high-end segment of injection molding machines also in the Chinese market. For internationally operating enterprises with their global customer requirements and their complex heavy duty and high performance molds, these machines offer a whole range of advantages, says Managing Director Gerold Schley. For example, the customer support and service is provided directly by our highly trained and superbly qualified Chinese Engineers from the Jiangyin plant. For the service for global companies the Asian team is supported by Ferromatik Milacron in Malterdingen.
In all F-Series machines - available with clamping forces ranging from 500 kN to 6,000 kN - the plasticing drives and the mold movement are power driven as standard. The unit movement, the ejector function and the injection are optionally electric or hydraulic.
There is the best possible injection unit for every conceivable application. Customers have the choice of three performance classes: GP, AP and HP. The injection unit of the GP models (General Performance) is power driven, delivering a high injection velocity (330 mm/s) and energy-saving and low-noise production. The AP version (Advanced Performance) for higher injection speeds (500 mm/s) is optionally equipped with electric or hydraulic drive. The highest injection speeds (1,200 mm/s) are delivered by the HP version (High Performance) with energy-efficient storage hydraulic system with constant pump and AC servo motor drive.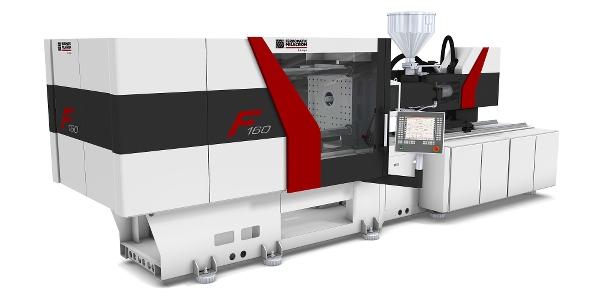 The consistently modular platform philosophy of the F-Series allows the operator to combine individual modules into a tailor-made, cost-effective and energy-optimized production precisely matching the injection molded parts to be made. Ferromatik Milacron guarantees an extra portion of future investment security by easy retrofitting and adapting machines already delivered in terms of performance.
An F 160 in hybrid makeup with an AP injection unit will be displayed at the trade show. Fitted with a Mold Master hot runner system on a dual mold, it produces lids for beakers. The polypropylene lids weighing 7 grams with a diameter of 110 millimeters are made in a cycle time of 2.7 seconds. The machine is fitted with a 40 mm worm and plastifies electrically. The ejector movement is also power driven, injection and the unit movement are hydraulic. The outstanding features of the F 160 machine are excellent energy efficiency, sustainability and high capacity.
The range of items exhibited at the Chinaplas is rounded off by two Elektron machines with 300 kN and 3,500 kN clamping force. The all-electric Elektron machines are made at the Jiangyin plant in China.