Cavalluccio manufactured by Eurocomitalia has been awarded with "Best Recycled Product" for 2011, granted by EPRO (European Association of Plastics Recycling and Recovery Organisations).
EPRO has been launched the copmetition in 2009 to demostrate examplary practices of using recycled plastics by European companies in ther products. The event helps to underline the fact that plastics play a significant role in the innovation and manyfacture of new products. Furthermore promoting the life cycle of plastics and increase the request for recycled materials.
The competition is gaining more attention each year from both sides, conusumers and producers. Since 2009, when the event was held for the first time, more than 80 entries from 15 countries has taken part in it. The entries were judged by a panel from across Europe, including representatives from EPRO, Plastics Europe and ACR+ this year.The competition focused on several criteria's: The entries had to contain a substantial part of recycled plastics, including recycled plastics packaging, it has to be manufactured in Europe and it must have made sales since 2009.
The top three places as follows:
1. Cavalluccio, Childrens play equipment , EUROCOMITALIA S.R L – Italy
2. Zebra, Cycle lane indicator, ZICLA – Spain
3. Senseo Viva Café Eco, Coffee Machine, Philips NV - Belgium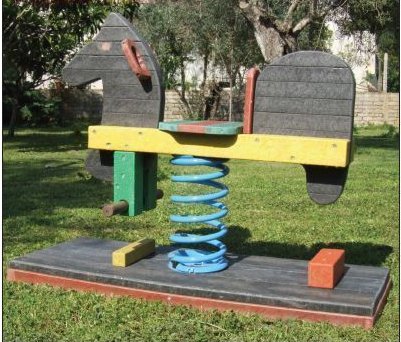 Photo: Eurocomitalia
The awards were granted on 3rd October at IdentiPlast 2011, in Madrid, the key plastics industry event.
"The competition documents what can be achieved when the value chain and life cycle work together. For the consumer who makes the effort to collect their used packaging for recycling this competition provides some great examples of what can be achieved. We hope the industry continue and increase their use of recycled plastics as material option for products. We now also see that more and more, are seeing used plastic packaging as a valuable resource and not waste. We thank everyone for supporting the competition and look forward to seeing what's new in 2012." commented Eirik Oland, Head of EPRO Communication.