PETnology Europe 2010

PETnology Europe 2010
Organizer

PETnology GmbH Managing Director: Barbara Appel Postfach 120 429 D-93026 Regensburg Registergericht Regensburg HRB 7827

Phone:

+49 (0)941-870-2374

Fax:

+49 (0)941-870-2373

www:

e-mail:

b.appel@petnology.com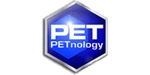 Technology's Achievements, Markets' Requirements, Consumers' Preferences
On 8th and 9th November, PETnology Europe 2010 will shed light on what technology can achieve, what markets want and what consumers like. These questions will be answered in presentations from more than 30 companies, by exhibitors at their stands and in numerous one-to-one discussions among participants.

Our team will once again create the ideal setting for this exchange at the modern Congress Center Nuremberg (CCN East). On the evening of the 7th November we invite all conference participants to join us for a welcome reception at the nearby NOVOTEL NÜRNBERG AM MESSEZENTRUM.
The Brau Beviale, which starts directly after PETnology Europe 2010, invites all conference participants to the exhibition - free tickets will be available from the conference registration desk. We would also be delighted to welcome you to our reception at the Packaging Wall of Excellence, at our stand in hall 4 A on the evening of the first exhibition day.
Previous editions