Sabic's latest polypropylenes at Fakuma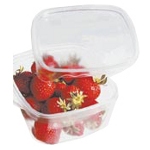 SABIC's new grade for thin-wall injection moulded packaging, SABIC® PP Flowpact FPC 100, will have its public premier at the show. Stork Plastics Machinery B.V., the Dutch specialist in high-speed injection moulding machines, will use it to make margarine tubs with 0.45-mm wall thicknesses in a four-cavity mould installed on a Stork E 2500-850 full-electric machine with a 2500-kN electric clamp unit. Stork, on Stand A7-7304, says the high crystallisation speed of the SABIC impact copolymer will help it decrease cycle times.
SABIC® PP Flowpact FPC 100 contains a state-of-the-art package of processing and antistatic additives. It is distinguished by very high flow (Melt Flow Rate, is 100g/10min at 230°C/2.16 kg) as well as high crystallisation speed, which together result in reduced cycle times for moulders. It was developed specifically for the production of thin wall containers for yellow fats and packaging for dairy products such as yoghurts, cream, flavoured milk and cheese spreads.
A second Stork machine processing SABIC® PP Flowpact FPC 100 will be on Stand A1-1210, operated by product handling specialist Polymac. In this case, a Stork S+2500-1450 will be equipped with a four-cavity flower pot mould.
KrausMaffei will be running SABIC® QR673K, part of the SABIC® PP Qrystal grade family, at their stand (Stand A7-7303). The material has state-of-the-art part aesthetics and a broad processing window which enables lower processing temperatures, thus reducing energy consumption and cycle times.
SABIC® PP Flowpact FPC 100 will also be used by ARBURG GmbH + Co KG (Stand A3-3101), to make in-mould labelled 1.2-litre pails. A two-cavity mould will be running on an Arburg Allrounder 720 H with a clamp force of 3200 kN.
On Stand A6-6224, meanwhile, Toyo will use a special SABIC polypropylene grade for medical and pharmaceutical applications, SABIC® PP PCGR25, to make high-clarity syringes.
Toyo will use an all-electric Si-130 V machine (1300 kN) equipped with a 32-cavity mould. SABIC's random copolymer grade, which was launched earlier this year at the Pharmapack show in Paris, has very good antistatic properties and enables production of highly transparent products at low processing temperatures (around 200°C) – optimal conditions for efficient and economical production of medical parts, according to Toyo.
Ben Raven, SABIC Technical Marketing Engineer PP, comments: "Converters using SABIC® PP PCGR25 may operate with significantly shorter cycle times and achieve energy savings of up to 15%."
---
Business Start

SABIC Europe

Polyolefins, PVC, Polyester and PS, Olefins, Aromatics and gasoline products, Fibre intermediates, Industrial gases, Linear alpha olefins