Wind Turbine Blade Manufacture 2012
Date:
-
Location:
Düsseldorf,

Germany

,


Maritim Hotel Maritim-Platz 1 40474 Düsseldorf Germany
Organizer

Applied Market Information Ltd. 45-47 Stokes Croft Bristol BS1 3QP

Phone:

+44 0 117 924 9442

Fax:

+44 0 117 311 1534

www:

e-mail:

rmm@amiplastics.com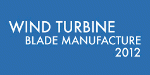 The 3rd AMI international conference on Wind Turbine Blade Manufacture 2012 will take place from the 27-29th November 2012 at the Maritim Hotel in Düsseldorf, Germany. The conference starts with an evening networking reception and exhibition on 27th followed by a 2-day technical programme. The event is conveniently located at the international airport. This is a very focused wind composites event and is well supported by the global industry.

The demand for renewable energy is fuelling the growth of the wind industry and the offshore market in particular is seeing great potential for development. This is driving up the size of the windmill blades to over 70m for the larger offshore turbines. There are hundreds of design factors to consider in these innovative composite structures from weight and load bearing, which in turn places pressure on the tower, to durability and weatherability in hostile environments. The current aim is for maximum energy output, a 20 year lifespan and minimal maintenance costs to the wind farm developer. The manufacturing process and the materials in use are being reviewed to meet the demands of the longer, new blade designs.

Wind Turbine Blade Manufacture 2012 brings together energy companies, wind turbine producers, blade manufacturers, design engineers, composites manufacturing experts, researchers, developers, materials and equipment suppliers, to discuss the latest challenges from climatic conditions, design, materials and composites processing, to qualification and testing. This year's programme brings together top global wind turbine manufacturers, blade makers, industry suppliers and research institutes.