Plastics Industry Strategy Seminar 2012
-

Chicago,

United States of America

,


Chicago Magnificent Mile 300 E. Ohio Street Chicago, IL, USA
Organizer

Kelly Cressman, Conference Coordinator APPLIED MARKET INFORMATION LLC 1210 Broadcasting Road - Suite #103 Wyomissing, PA 19610

Phone:

+1 610 478 0800

Fax:

+1 610 478 0900

www:

e-mail:

kc@amiplastics-na.com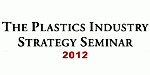 The Plastics Industry Strategy Seminar will take place on Monday, June 25, 2012 at the DoubleTree Chicago Magnificent Mile in Chicago, Illinois, USA.
In a single day, AMI's seminar gives industry managers an up to date view on trends and developments in the global plastics industry, including detailed information on resin demand, future growth, end use patterns and industry structure.
Led by AMI's Research Director, this seminar will provide both a statistical review of the world market for plastics and also the opportunity to discuss key questions about the development of the processing industry and the prospects for downstream applications.
For more information please visit:
event's website
-OR-
Email kc@amiplastics-na.com