PLAST EURASIA İSTANBUL 2017
Date:
Location:
Tüyap Fair and Convention Center

,

Yolu Caddesi 9/1, 34500 Büyükçekmece

,

34500

Istanbul

,

Turkey
Organizer

Tüyap Fair and Convention Center

,

Yolu Caddesi 9/1

,

34500

Büyükçekmece, İSTANBUL

,

TR

Phone:

+90 212 867 11 11

Fax:

+90 212 886 94 04

www:

e-mail:

info@plasteurasia.com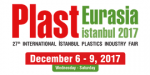 Organized annually by Tüyap in cooperation with PAGEV (Turkish Plastics Industry Foundation), Plast Eurasia İstanbul will take place from December 6th-9th, 2017 in Tüyap Fair Convention and Congress Center.
Plast Eurasia Istanbul Fair offers the highest quality to the plastics industry professionals with a 27 year experience and making the best value in the industry and taking this value protection as its principle.
Within the scope of the fair, the latest technologies and innovations about plastics machinery, chemicals, raw materials, machinery auxiliary industry, heat and control equipment, mould, hydraulic and pneumatic, recycling will be showcased for visitors.
Plast Eurasia İstanbul 2016 Fair brought together 957 company and company representatives from 41 countries and 48.725 professional visitors from 84 countries. Plast Eurasia İstanbul hosted procurement committees from 26 countries including Azerbaijan, Bosnia Herzegovina, Bulgaria, Croatia, Egypt, Georgia, Greece, Iran, Iraq, Jordan, Kazakhstan, Kosovo, Lebanon, Macedonia, Moldova, Morocco, Palestine, Romagna, Russia, Serbia, Slovenia, Sudan, Syria, Tajikistan, Ukraine and Uzbekistan.
Visitors came mostly from Iran, Algeria, Bulgaria, Iraq, Saudi Arabia, Ukraine, Azerbaijan, Morocco and Germany. The visitors by industry: plastics industry, packaging industry, raw materials, machinery industry, chemical industry, automotive industry, mould industry, recycling etc. According to visitor survey results; 95% of the visitors recommend the fair to their colleagues and 74% of the visitors stated that they established new connections at the fair.