Indian Medical Devices & Plastics Disposables / I

The 12th National Conference And Technology Exhibition On Indian Medical Devices & Plastics Disposables / Implants Industry 2015
Date:
-
Location:
Ahmedabad,

India

,


Ahmedabad Management Association IIM Road, Ahmedabad - 380015, Gujarat, India
Organizer

Classic Computer Services, B-4, Mandir Appt., Opp. P & T Colony, Jodhpur Char Rasta, Satellite Road Ahmedabad - 380 015. Gujarat India

Phone:

+91 79 2674 0611

Fax:

+91 79 2675 4867

www:

e-mail:

info@imdiconferences.com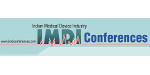 he 12th two day National Conference And Technology Exhibition on
Indian Medical Devices & Plastics Disposables / Implants Industry 2015
to be held in January, 2015 at Ahmedabad Management Association (AMA), Ahmedabad, Gujarat, India, is a unique place to hear about the global and domestic market trends, regulatory changes, latest technology and material trends and to debate important issues with the industry leaders and top professionals. A "Technology Display Show" Exhibition showcasing important inputs like materials, adhesives , Manufacturing / Packaging / Sterilization / Testing Equipments and supplies as well as Services will be held in conjunction with the conference.
This annual conference for the Indian Medical Devices and Plastics Disposables Industry is being organized since 2001 with close involvement and support of the Leading Industry Associations both in Medical Devices and Plastics Sectors. Our Mission is to create a platform for the Indian Medical Device industry and the technology / product / service providers with an objective to facilitate an environment of healthy growth.
The two day programme will include presentations from knowledgeable eminent speakers from Industry, Research Institutions, Professionals and Academic Institutes from India and abroad. A "Technology Display Show" exhibition will show case products and services required by Medical Devices and Diagnostics Industries.
During the previous event held in January 2014, more than 40 experts shared their rich experience, knowledge and vision with more than 400 delegates. About 40 Companies showcased their Products and Services in the "Technology Display Show Exhibition".
The Industry Associations and other organizations included Association Of Indian Medical Devices Industry (AIMED), Medical Disposables Manufacturers Association" (MDMA), Society Of Biomaterials And Artificial Organs, National Biomedical Engineering Society, Pharmaceutical Export Promotion Council (Pharmexcil), Food And Drugs Control Administration, Association Of Diagnostics Manufacturers of India (ADMI), Medical Surgical and Healthcare Industry Trade Association (MSHITA), Gujarat State Plastics Manufacturers Association (GSPMA), Indian Plastics Institute (Ahmedabad Chapter), The All India Plastics Manufacturers' Association, Govt. Of Gujarat as well as Industries and Mines Dept., Govt. of Gujarat and Industrial Extension Bureau.
Main topics
Medical Polymers and Processing
Device Manufacturing
Market Trends & Export Marketing
Regulations
Technology
Research & Market Developments
Packaging & Sterilization
Professional Attendees
Medical Device Manufacturers
Drug Packagers
Research Organisations
Quality Certification Agencies
Regulatory Agencies
Designers
Manufacturers Of Tubes And Injection Moulded Components
Manufacturers Of Clean Room & Sterilisation Supplies
Medical Plastics Processors
Plastics and Additive Producers
Machinery Suppliers
Universities And Testing Laboratories
Financial Institutions
New Entrepreneurs