Organizer

Contact in Poland: Conntact in Poland: ITE Poland Sp. z o.o. Ul. Wyspianskiego 14/15 PL - 60-750 Poznan Poland

Phone:

+48 61 662 7241

Fax:

+48 61 662 7246

www:

e-mail:

info@ite-poland.com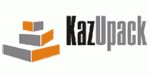 KazUpack is a significant event in the Central Asian region, at which exhibitors can present new achievements in packing industry and set up perspectives and strategies for sales, which would undoubtedly give them the status of leaders in the international market of producers of packaging, materials, technologies, machinery and equipment.

KazUpack will happen for the 7th time in November 2009 and will work in conjunction with the World Food Kazakhstan. The joining of these two exhibitions will bring a strong international delegation of Exhibitors and visitors to the event.