Drupa 2008

Print Media Messe Drupa 2008
Organizer

Messe Düsseldorf GmbH Postbox 10 10 06 D-40001 DüsseldorfGermany

Phone:

(0)211 / 4560-900

Fax:

(0)211 / 4560-668

www:

e-mail:

info@drupa.de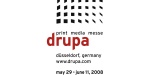 Drupa 2008 will break every previous record. Boasting almost 170,000 square metres of net exhibition space and over 1,800 exhibitors, the print media fair held from 29 May to 11 June 2008 will be the largest since its inception over 50 years ago. The complete fair grounds including all extensions will be entirely booked up.

Drupa 2008 will focus on the themes of cross-industry digitalization, automation in the classical printing methods, digital printing processes and integrated production through workflow networks.

The event will also feature, for the first time, a programme of workshops, seminars and presentations, as well as guided tours of the fair. The drupa innovations arena, the software innovation park and the dynamic document park are expected to provide visitors with the opportunity to compare and analyse parallel and synchronous new technologies at a single spot.

Concentrated presentations, seminars and workshops will help the trade visitor to compare the potential of violet and thermo techniques of computer-to-plate technology. The trade visitors will also have the opportunity, to examine the compatibility of these technologies within the total workflow chain and decide whether the plate exposure units are mature for the market.