ChinaReplas2011

The 6th China Plastics Recycling Conference & Exhibition
Date:
-
Location:
Guangzhou,

China

,


Qinglian Junction, Yingbin Road,Huadu District,Guangzhou HJ Grand Hotel
Organizer

Plastics Recycling Committee of CPPIA 6th,East Chang'an Ave,Dongcheng District,Beijing,China

Phone:

0086-10-6122-7642

Fax:

0086-10-6122-7899

e-mail:

chinareplas@replas.org.cn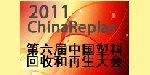 In 2011, the plastics recycling industry of China experienced some major events, such as "price inversion at home and abroad" and management practices of import license adjusted. The plastics recycling industry in China has entered a new stage of development, along with implementation of new "management practices of import of solid waste" and preparations of access standards for import of scrap plastics industry.

  In order to further promote the development of plastics recycling industry in China, give full play to the role of associations as a bridge and link, enhance communication between enterprises of the industry and government, domestic and foreign counterparts, Plastics Recycling Committee of China Plastics Processing Industry Association will hold the sixth annual conference---ChinaReplas2011, which will provide for the enterprises an international communication platform of exchange and cooperation, discussion and resolving problems of the industry.

  ChinaReplas2011 will be held on 6-7 Nov. 2011 in HJ Grand Hotel Guangzhou, China.