CFIA Rennes 2012

Agri-Food Industry Suppliers Meeting-place
Date:
-
Location:
Rennes,

France

,


Rennes Parc des Expositions, Rue Jules Vallès, Saint-Jacques de la Lande Rennes
Organizer

Gl Events / Agor Bp 223, Villeneuve Sur Lot, France

Phone:

+(33)-(553)-367878

Fax:

+(33)-(553)-367879

www:

e-mail:

cfia@cfiaexpo.com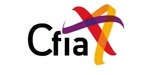 The Rennes Carrefour des Fournisseurs de l'Industrie Agroalimentaire [Agri-Food Industry Suppliers Meeting-place] is the premier event in France aimed at all the professionals of this sector. Organised into 3 distinct sectors: Ingredients & IFPs, Equipment & Processing, Wrapping & Packaging.

Each year, it brings together a complete offering featuring 1,200 exhibitors at the forefront of innovation. These suppliers, manufacturers and service providers are the symbol of French expertise, with over 200 business sectors represented.

The Rennes show brings together quality visitors from all functions of the plant. With over 200 businesses and 1,300 exhibitors represented at the forefront of innovation, the CFIA is now the best ambassador of French know-how in agribusiness.

In 2011 it gathered 12,258 visitors during 3 days in an atmosphere of Business and Friendliness. These values make of CFIA the major event in its field.