BioPolymer World Congress 2012

The international forum on biopolymers
Date:
-
Location:
Venice,

Italy

,


NH Laguna Palace Hotel
Organizer

TPR International 17055 Via Del Campo, Suite 200 San Diego, CA 92127, USA

Phone:

+1 (858) 592.6951

Fax:

+ 1 (858) 592.0045

www:

e-mail:

congress@biopolymerworld.com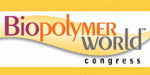 Organisers expect biopolymer and biobased chemical enthusiasts from all over the globe to assemble under one roof at the Biopolymer World Congress, two-day event, scheduled for 23-24 April 2012. This international forum brings together the biopolymer industry's key participants to discuss the latest advancements in the Biopolymer industry while addressing the entire value chain.

As biopolymers and biobased chemicals emerge as a viable solution to reduce mankind's dependence on petroleum-derived products, there are real challenges that must be addressed. The Biopolymer World Congress will focus on the modern challenges facing the biopolymer and biobased chemicals industry, ranging from breakthrough innovative science in research to end-of-life recovery.