BiPoCo 2012

International Conference on Biobased Polymers and Composites
Date:
-
Location:
Siófok,

Hungary

,


Hotel Azúr
Organizer

Öt évszak Ltd. H-1521 Budapest, P.O. Box 91, Hungary

Phone:

(+36)-1-463-3476

Fax:

(+36)-1-463-3474

www:

e-mail:

tatraaljai@mail.bme.hu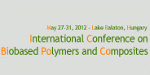 The Organizing Committee intends to provide the scientific community with the opportunity to present their latest results for discussion at a worldwide forum, to create a friendly atmosphere for socializing and strengthening personal ties, to offer young scientists an opportunity to present their work and interact with the community, to enable scientists from all parts of the world to meet and discuss issues of common interest and establish worldwide scientific activities.
Scientific and technological presentations and discussions will focus on the theory and practice of biobased polymers and their composites:
Bio-based polymers and their blends: PLA, PHB, copolymers, impact modification of PLA, biopolymer blends, modification with natural polymers.
Natural polymers and their modification: Cellulose, starch, chitin, chitozan cellulose derivatives, cellulose plasticization, functionalization, plasticization of starch.
Natural fiber reinforced composites: Wood flour composites, natural fibers, nanocellulose, all cellulose composites, surface modification and coupling, deformation and failure mechanism, water sensitivity.
Other raw materials based on natural resources: Lignin, tall oil, lignin modification, liquefaction, biobased PU, polyesters and other thermoset resins and their composites.
Biodegradation and environmental issues: Biodeterioration and biodegradation, enzymatic modification, composting; life cycle analysis, environmental impact.
Application of bio-based polymers and composites: Automotive applications, electronics, biomedical applications and tissue engineering, thin films and coatings, packaging, agriculture and horticulture.
Consumer expectations and attitudes towards bio-based polymers.